Evadoc newsletter – Spring 2023
Table of Contents
Flanders, a model for other countries
Our Hope is available digitally
That sounds fantastic!
Student Liesbeth
30 years of the " Verbond van Vlaamse Pinkstergemeenten"
Jubilees of Evangelical Churches in Liège and Schaerbeek
The lightest ink is better than the best memory
Conferences
Acquisitions
Transfer archives?
Heritage Consultancy
Subscribe or Unsubscribe
Flanders, a model for other countries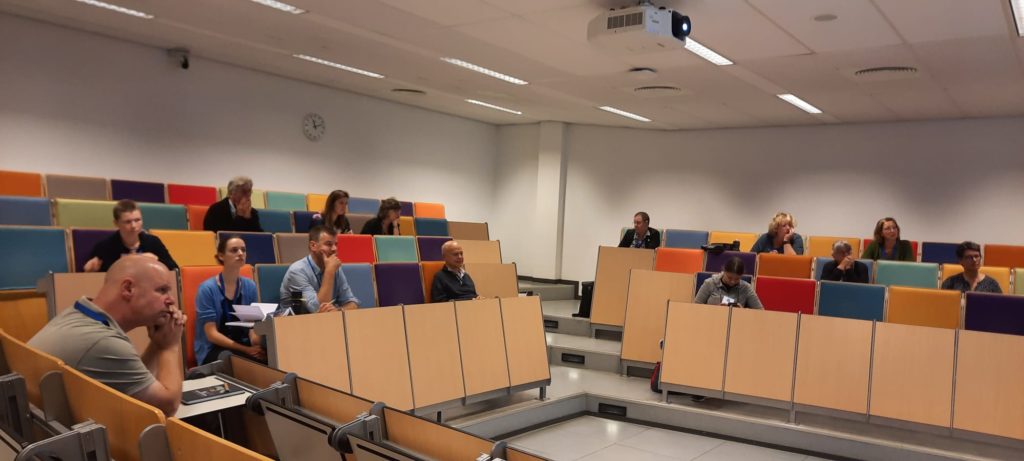 During the Dutch Historians' Days in Rotterdam on August 27, 2022, Aaldert Prins presented the project " Hemelsbreed ; Divers religieus erfgoed in Vlaanderen' [in English: Diverse religious heritage in Flanders] of KADOC and PARCUM, in which Evadoc dealt with Protestant and Anglican religion. His paper focused on the opportunities and obstacles for historians to use religious heritage. His paper focused on the opportunities and obstacles for historians to use religious heritage. The attentive public observed that the organization of archives can be a mirror of the organization of society. His paper focused on the opportunities and obstacles for historians to use religious heritage. The attentive public observed that the organization of archives can be a mirror of the organization of society. The project was seen as a good source of inspiration to pay more attention to the preservation and safeguarding of other cultures and religions in the Dutch archival system.
Our Hope is available digitally
In 2021, together with KADOC, we successfully appealed to crowdfunding to digitize the magazines Onze Hoop / Notre Espérance. Thanks to your financial support, we were able to digitize all the issues in our possession. You can now browse both magazines digitally via KADOC's public catalog. Click here to access the 1925-1963 volumes of Onze Hoop, and click here to access the 1925-1955 volumes of Notre Espérance. These magazines are not only a gold mine of information about the Belgian Evangelical Mission (today VIANOVA) and its local churches. They also give us insight into how people in those circles perceived national and international events. For example, if we leaf through the 1933 volume, we see that shortly after Hitler seized power in Germany, there were already concerned reports about the anti-Semitic nature of Nazism.
That sounds fantastic!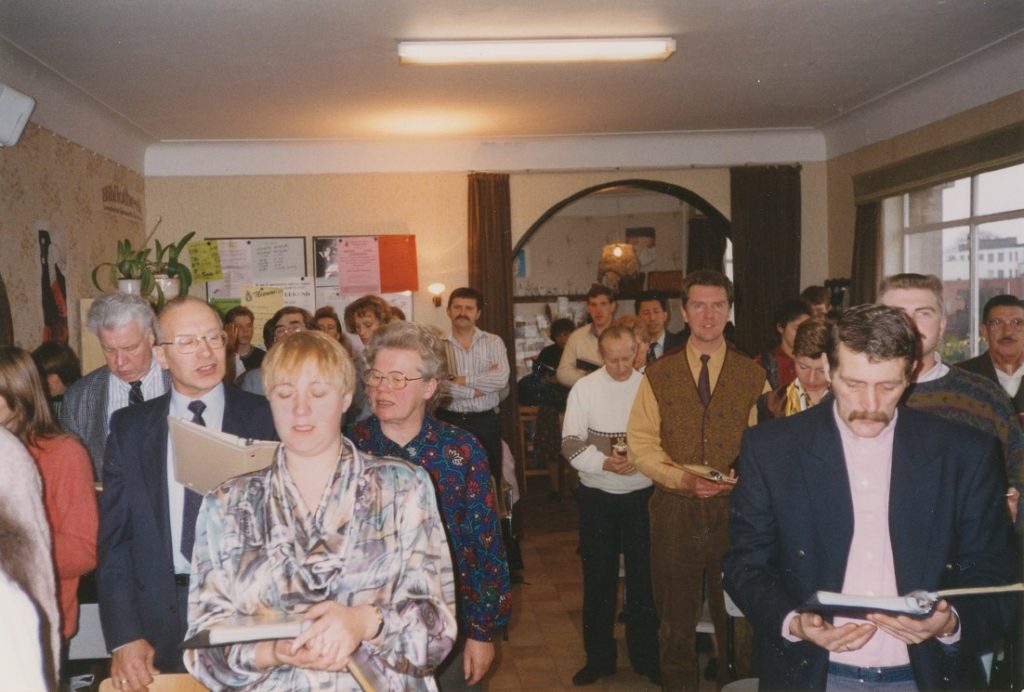 Each religion has its distinctive musical and artistic practices. These are traditions, customs, and rituals that often have a long history and are taken for granted in their own circles. These practices are inextricably linked to the exercise of religion, but at the same time they are also intangible cultural heritage. For some time now, Flanders has had a digital platform where this intangible heritage can be shown to a wider audience. In order to make the religious diversity in our country visible through this channel as well, KADOC and PARCUM , in collaboration with Werkplaats immaterieel erfgoed [in English: Workshop Intangible Heritage] and CEMPER, the Center for Music and Performing Arts Heritage, have in recent months asked and guided religious communities to register their music and performing arts on the online platform 'Immaterieel erfgoed in VlaanderenWithin KADOC, Evadoc is responsible for the Protestant and Anglican religion. For example, the congregational singing during Sunday worship is now included in this inventory. The first results of this registration campaign are bundled on this thematic page. Would you like to register a heritage practice yourself? Then take a look at this page for Flanders or this page for Brussels. Need help? We are always more than happy to help you. Send an e-mail to info@evadoc.be.
Student Liesbeth
Our country has hundreds of print and digital newsletters and periodicals from Protestant or Anglican congregations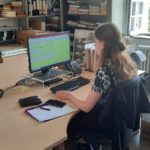 , organizations, or denominations. They are expressions of our multifaceted and very diverse religious landscape. Evadoc attempts to map and collect as many of these publications as possible. Last summer, student Liesbeth helped us with the processing of hundreds of newsletters and digital magazines. Most titles will soon be available through the LIMO public catalog. That catalog also indicates how to consult these titles.
30 years of the " Verbond van Vlaamse Pinkstergemeenten "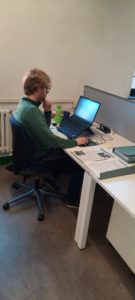 In 1993, the Verbond van Vlaamse Pinkstergemeenten [in English: Association of Flemish Pentecostal Churches] was formed from the merger of two smaller denominations: De Broederschap van Pinkstergemeenten [in English: the Fellowship of Pentecostal Churches] and Elim. In several archives that are deposited at Evadoc and housed at KADOC, documents can be found on the preparatory discussions on this subject. ETF-Leuven student Jonathan Persoon, is doing a research internship at Evadoc within KADOC-KU Leuven this academic year. He will study the merger process from various archival sources, supplemented with interviews of some people who were closely involved. His findings will be processed in an article for the VVP magazine Vlaanders and possibly in a scholarly journal.
Jubilees of Evangelical Churches in Liège and Schaerbeek
In 2019, the Belgian Evangelical Mission, today VIANOVA, celebrated its centennial. What was intended as an interdenominational missionary organization that would cooperate with the existing protestant churches in Belgium, grew within a few months into a nationwide church-planting organization. This means that the oldest of these local churches are all now celebrating their centenary. Since the VIANOVA archives are entrusted to the care of Evadoc, we regularly receive requests from these churches to consult these archive. A recent example is the Evangelical Protestant Church of Liège. In 1922, they organized their first activities in a rented house on the Quai de la Bouverie.
The Free Evangelical Bethel Church in Schaerbeek was founded in 1923 at the VIANOVA headquarters. After a number of wanderings, they ended up at their present location on the Haachtsesteenweg in 1956. As part of their jubilee celebration, Evadoc has been called in to help put their archives in order. Together with an enthusiastic group of volunteers, many valuable archival items were found in the building. These are being organized, inventoried, and described by the volunteers. This makes it much more efficient to search for certain topics. By wrapping everything in an acid-free material, these paper archives will be better preserved for the future.
Would you also like to use our expertise for the archives of your local church or organization? Please contact the Evadoc consultant within KADOC. A tailormade trajectory will then be developed together.
The lightest ink is better than the best memory
This Chinese proverb very well indicates the importance of good information management, and certainly also applies to the many churches, non-profit organizations, and organizations in our Protestant landscape. But how do you handle something like that? How do you ensure that you can read and use important e-mails, minutes, photos, websites, et cetera, not only in the short term – today, tomorrow, or the day after tomorrow – but also in the long term?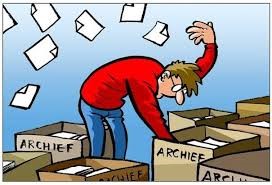 Last autumn, we organized a training evening on archiving and document management throughout Flanders. Participants were very enthusiastic about the content and applicability of this training. That is why we want to offer this training again this year, but online. On Monday 25 September and Thursday 5 October, this will be done in Dutch. On Wednesday 11 October, the training will be held in English. You can now register for any of these dates via this link.
For Whom?
For anyone who has a secretarial position in a local church or organization:
• Secretary of the Church Council/Board of Directors
• Secretary of the youth work, or any other activity in the church
• Webmaster, social media manager
• Anyone interested…
The evenings start at 19:45 and last until about 22:00.
About a week before the evening for which you have registered, you will receive a link through this digital activity.
Conferences
On 22 October 2022, as usual, the Flemish Evangelical Convention took place in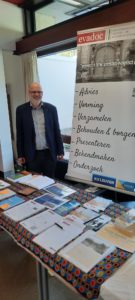 Oostmalle. On 11 November 2022, as usual too, the Convention of the AEPEB, a French-speaking denomination has held in Charleroi. On both occasions, Evadoc was present at the information market as usual. These events are an ideal opportunity to make our work known to a wider audience, to do some networking, and to answer questions. It regularly happens that during such national activities, the foundations are laid for the preservation of archives or publications at Evadoc. Also in 2023, we hope to meet many of you at our stand during these activities. You can find out where and when to find us in the activity calendar on our website.
Acquisitions
New Publications
Over the past year, several new publications have been added to our collection. In this section, we bring some of them to your attention.
Jezus geneest vandaagbyRaymond Hausoul and Wim Kok 
Vergeten rijkdom; Joodse wereldliteratuur uit de klassieke oudheid  by Daniël De Waele 
Nicewander & Brookins : Parels in het puin; Onze reis naar huis vanuit de ingrijpende gevolgen van seksueel misbruik ; published by the Centrum voor Pastorale Counseling in Leuven .
• After having already received the special edition of Suske en Wiske, entitled De drijvende dokters on the work of Mercy Ships, the French version, Bob and Bobette: Les médecins amphibies, has now also come into our possession. In addition, we also keep track of newsletters from this organization.
• Also special is the autobiographical report of Janet Winston, who survived the March 22, 2016 attack in Zaventem, together with her husband. The title of this book is Paris – Bruxelles, au cœur des attentats.
Ook de autobiografie van Adri van den Berk, Verbazingwekkende ommekeer, en het door Paul Maenhout in eigen beheer uitgegeven De liefde van Jezus vormen een mooie aanvulling op onze collectie publicaties die te linken zijn aan de protestants-evangelische gemeenschap in ons land.
Transfer archives?
It is possible to deposit archives at Evadoc. If you give it to us for safekeeping, we will keep and manage your records, but you will retain ownership. This means, for example, that we will always ask your permission if someone wants to consult something from your archives. The other option is a donation. We then not only take care of the storage and management but also deal with consultation requests. General guidelines for transferring paper or digital archives can be found here and here [links available only in Dutch]. For specific questions or further information, please contact Aaldert Prins.
Consultancy
KADOC has an extensive consultancy service for diverse religious heritage. More specifically for documentary (archives and publications) and intangible (traditions and customs) heritage. The Evadoc consultant within KADOC is the point of contact for Protestant or Anglican heritage [links available only in Dutch]. For questions about objects and immovable heritage, we are happy to put you in touch with our colleagues from PARCUM.
Subscribe or Unsubscribe
Click on this link to subscribe or unsubscribe to the Evadoc newsletter.