Table of contents Evadoc E-newsletter 11-1 Winter 2020-2021
Changing Times
Volunteer
Hemelsbreed
ETF-Trainee
Sharing Expertise
Flemish Cultural Heritage Day 2021
New Acquisitions
Subscribe or Unsubscribe
Changing times
The Covid-19 measures have profoundly impacted our society since mid-March 2020. Clearly, this also had an impact Evadoc's operations. The physical collection could not be consulted in the reading room of KADOC-KU Leuven for a while. Because conditions can alter rapidly, please check this link for the latest news regarding corona measures at KADOC. Of course, appropriate measures have been taken to protect your health during a visit as best we can.
That being said, when processing archives, you may notice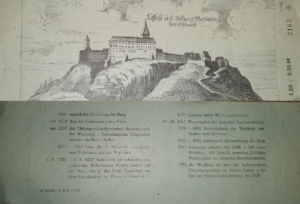 that times are changing. Take for instance the archives of the European Evangelical Alliance. It contained an unused ticket for the Wartburg, dating from shortly before the Iron Curtain was breached. During the Sixteenth Century, Martin Luther spent a year in hiding at this castle, which was located in former East Germany during the Cold War. The text on the back is a living illustration of the "Marxist Luther image" which the GDR promoted from 1978 onwards.



Volunteer
On March 1, 2020, Jakob Broersma started to work as a volunteer. The idea was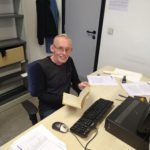 that he registers the new acquisitions in the catalog. The corona measures soon thwarted these plans. We are happy that Jakob intends to come back to KADOC in due course and help us for an afternoon every week.
We could certainly use more volunteers! So don't hesitate to contact us and we'll discuss the possibilities.
Hemelsbreed
Our September 2019 newsletter (only available in Dutch and French) introduced the project "Hemelsbreed. Diverse religious heritage in Flanders." KADOC and PARCUM, two cultural heritage organizations, recognized by the Flemish government, decided to map Flanders' State-recognized religions' cultural heritage and cultural heritage needs. Important steps have now been taken as part of this project. Between June 2019 and January 2020, the local faith communities were contacted through their representative bodies , and then interviewed about their heritage. Within KADOC, Evadoc was responsible for the Protestant-Evangelical and Anglican participants.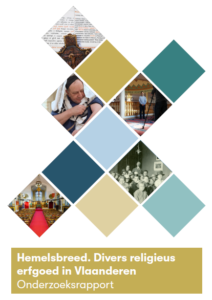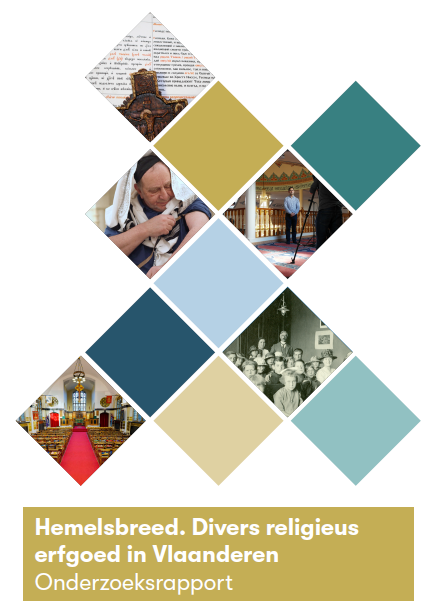 The results were presented in a research report during a webinar with nearly 100 participants from Belgium and abroad. One of the conclusions was that quite a few participating protestant congregations have no inventory of their objects. Fortunately, a practical manual was published a few years ago to assist the local churches, which can be found here. A second need is assistance and advice on storage and organization of both paper and digital archives, and consultation of archives and privacy regulations. These archival needs are also present among the participating Anglican parishes. We will provide the local faith communities with (links to) the necessary tools to address their cultural heritage needs. The report (in Dutch only) can be downloaded via this link.
The report is an important milestone in mapping the diverse religious heritage and needs involved in Flanders. In the follow-up process, action lines will be developed for the religions surveyed, and efforts will be made to broaden and internationalize. We will keep you informed through multiple channels.
Finally, we would like to draw your attention to the short videos made as part of this project to highlight a part of the cultural heritage. There is one video for each religion. The video on Protestant cultural heritage was shot in the Evangelical Center in Deurne and can be viewed via this link.
The Anglican heritage recordings took place in St. George's Anglican Church in Knokke. Take a look via this link. For a playlist with all six videos, click here.



ETF-Trainee
An internship was scheduled from February to April 2020 for Marije Roeleveld student at the Evangelical Theological Faculty in Leuven. Covid-19 and the lockdown created several obstacles. Ultimately, a few months later than planned, she successfully completed her internship. Marije took the 'Hemelsbreed' survey to some 30 migrant churches in Ghent. As these communities move regularly, contacting and following up these congregations can be quite a challenge. The data she collected are an important addition for the 'Hemelsbreed'-database on religious heritage and the linked needs.



Sharing Expertise
Evadoc regularly receives enquiries, from Belgium or further afield, in relation with the history or heritage of Protestantism in Flanders, other parts of Belgium, or the former colonies. Not only academics contact us. Some want to learn more about their family history, others want to investigate their congregation's history.
Another way of sharing expertise is by giving guest lectures. Every academic year, consultant Aaldert Prins is invited to the Evangelical Theological Faculty, Leuven, to lecture on Flemish Protestantism's history from 1781 onwards. It has also become a tradition to introduce KU Leuven Bachelor students of the course "Religion in Europe: structures and cultures" to Protestantism and Evadoc.
Flemish Heritage Day 2021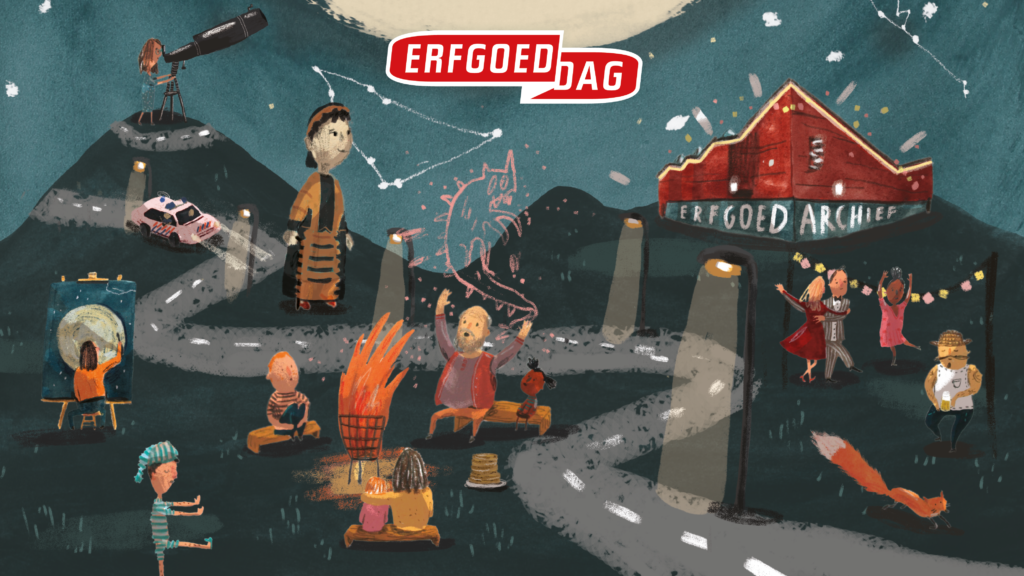 The annual Flemish Cultural Heritage Day is an ideal opportunity for local churches and organizations in Flanders and Brussels to promote their cultural heritage. Due to the corona pandemic, the 2020 anniversary edition had to be canceled this spring. Organizers rescheduled the event to 2021, keeping both the theme, 'The Night,' and the format, a weekend instead of a Sunday. The new dates are Saturday, April 24, and Sunday, April 25, 2021.
Registrations close on January 18, 2021.
This brochure (Dutch only) is useful to give you an idea of what kind of activities could be organized.
New Acquisitions
As usual, we present some of the acquisitions of 2020.
The following new books were added to our collection:
Jan Maes: De ster en het kruis. De Gereformeerde Jodenzending in Antwerpen en Brussel (1931-1948)
Margreet Groeneveld, Mozaïek, verhalenbundel; overleven in en na prostitutie, uitbuiting en mensenhandel.
Maarten Hertoghs, Asaja
Bruno Sebrechts, Uw licht op mijn schaduw
Johan Lukasse, Gods werk in mijn vierde levenskwartaal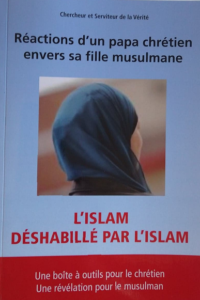 Réactions d'un papa chrétien envers sa fille musulmane
David Bouillon, L'Eglise et les malades du 2e siècle à nos jours 



From time to time, the collection is also expanded with older publications. Examples include:
Leven en streven van Abraham Hans (1982)
Kerken en vrede. Een geschiedenis van de Wereldbond voor Internationale Vriendschap door de Kerken (1989)
Het getal van de Nederlandsche martelaars der 16de eeuw (1908)
Rien sans Dieu Plans et suggestions pour le travail religieux à l'Union Cadette (1941)
The magazine collection also continually grows and continues to grow and broaden. Not only missing issues are added, but also new titles enrich the collection. Again, we give you some examples:
Kerkblad,  Evangelischal Church, Balen
Tijdschrift (journal) of the Fraternity of Dutch and Flemisch Pentecostal Churches
 MEMO, local church magazine, United Protestant Church in Belgium (UPCB)  Turnhout
De Protestantse Stem, magazine of the Protestant Broadcaster
Evangelie Huis aan Huis
Jong & Vrij + Tegenstroom
Kapelbode, local church magazine, UPCB Brasschaat
Agapè
Credo local church magazine, UPCB Malmédy
Support us
You can support Evadoc in various ways. Why not join us as a volunteer? Financial support is another option. All donations are received with gratitude, and can be sent to: Evadoc, Leuven (Belgium), IBAN: BE92 7340 2819 9323, BIC: KREDBEBB of Evadoc in Leuven, Belgium.
Are you on Facebook? Organize a fundraiser for Evadoc on this platform! It is up to you to choose the occasion, your birthday, …
Facebook will transfer the full amount of the donations to our bank account after the fundraiser ends.
Subscribe or unsubscribe
You can subscribe or unsubscribe at any time by clicking on this link.