Evadoc E-Bulletin, Volume 5, n° 1
This newsletter has been published a little later as you were used to. First, our new website was not yet launched. To give maximum exposure to this event, it was decided to relate the launch of the new site with the publication of a new e-bulletin.
Secondly, by shifting the publication dates of June and December to October and April, we hope to generate more interest for our activities. As many people were on leave at the time the e-mail notification was sent, this mail could be easily overlooked in a bulk of unread mails after returning to work.
As usual we will give a summary of the activities in which Evadoc was involved and list some of our acquisitions.
It was high time to restyle our website, which was launched back in 2009. We hope your visit to our site has become more agreeable and, above all, you will find more easily what you are looking for. [Currently the new website is only available in Dutch. We will do our utmost to have the English version online in the not so distant future.] Suggestions and remarks for improvement of the site will be welcomed.
French researcher Sébastien Fath was invited by Evadoc, the Evangelical Theological Faculty and KADOC KU Leuven, Documentation and Researc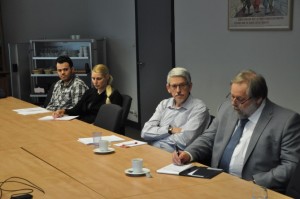 h Center for Religion, Culture and Society to give 2 lectures on April 3rd 2014. In the afternoon a public lecture was organized at the Evangelical Theological Faculty, entitled 'Immigrant Evangelical Churches in Europe and Social Integration: Mapping the phenomenon.' In the evening Dr Fath gave, under the same title, a variation of the lecture at KADOC KU Leuven, for researchers and scholars. At both venues, the participants were in a gripping and sparkling way initiated in the multifaceted world of migrant churches.
'Towards the Ends of the Earth'
Aaldert Prins was the sole Belgian representative at a conference entitled 'Towards the Ends of the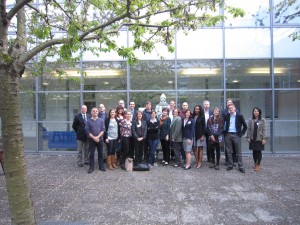 Earth: Exploring the Global History of American Evangelicalism, 1840-2010,' which was held from April 23-2, 2014 in Southampton (UK). The venue was jointly organized by the Centre for Imperial and Post-Colonial Studies (University of Southampton, the David Bruce Centre for American Studies (Keele University), the Institute for North American Studies (King's College, London) and the Roosevelt Study Center ( Middelburg). The Belgian contribution sketched the humanitarian aid to Belgium by several protestant and evangelical churches and organizations in the United States in the immediate aftermath of World War I.
On April 27th, together with several local churches in Brussels, Evadoc participated for the first time in the Heritage Day, a yearly venue, organized by Faro, the Flemish interface centre for cultural heritage in cooperation with the heritage communities of Flanders and Brussels. Under the title 'From Belgian Soldier to All Inhabitants of Brussels,' an exhibition was held in the basement of the Protestant-Evangelical Church at 7, Rue du Moniteur in Brussels. It displayed the story of the precursor of the Belgian Evangelical Mission, the British and Allied Soldiers Evangelistic Campaign. More than 100 visitors were counted, among whom several descendants of soldiers who were befriended with the Mission's founders, Ralph and Edith Norton.
In the same room an Iranian, a Dutch-speaking a French-speaking and a Vietnamese church, all founded by or connected to the Belgian Evangelical Mission.
In the auditorium of the same church a unique concert was held by the choir of the French-speaking church and a singing-group of the Vietnamese church. This concert was also attended by quite a few people.
The themes for the Heritage Days 2015 and 2016 have been chosen, 'Inherit' and 'Rituals' respectively. If you consider to participate, feel free to contact us to see how we can help you both with advice and in a practical way.
By means of VIAA, the Flemish Institute for Archiving both audiovisual documents in the care of Evadoc as well as documents of the Protestant Broadcaster, located in the Archives of the United Protestant Church in Belgium are being digitalized. The documents that are stored at Evadoc mainly consist of audio recordings of church services of several churches. We want to build a database of sermons / church services of the various branches of Belgian Protestantism. If your church wants to contribute to this project by donating recordings of sermons / church services on cassette, CD-ROM or any kind of carrier, please feel free to contact us.
Evadoc has acquired in the past months again quite a few publications. These can be consulted in the KADOC reading room in Leuven. Some of the new publications or documents are listed here below.
Joke Verrijze donated photos of the Genk Children's Home, as well as an issue of the periodical Koers, containing an interview with her. Both Erika Voskuil and the Pentecostal Church 'the Kruispoort' in Bruges donated several boxes with publications and archival documents, mainly with regard to Children's Sunday School activities.
Among the books we could add to our collection we'd like to mention 'Catechismus of onderwijzing in de christelijke leering' by Nicolaas de Jonge, 'Johannes Calvijn' by B.W. Ganzevoort, 'Hoe wordt ik verlost van de angst dat ik de onvergeeflijke zonde bedreven heb en van allerlei andere angsten?' by J. Overdulve, 'Door God geleid, werkschrift voor het derde studiejaar van het lager onderwijs' by Raymond Crassaerts, 'Wat doe ik – Christen – in zo'n geval?' by George Winston, 'Samen op de sofa' by Jef en Herlinde De Vriese, 'Gedenkt de gevangenen' by Henk Bor, 'Genezen van kanker' by Hugo van Leemputten, several publications by Susan Osazee of the Kingdom Life Center in Mortsel. Also our collection is enlarged regularly by the library of the Evangelical Theological Faculty, as some publications match better with our collection policy.
Sunday 19 – Thursday 23 October
Participating in an international conference in Rome, entitled "Documenting Christianity New Technology = New Perspectives for Mission Studies in the 21st Century?"
Saturday 25 October
Stand at the conference 'Spirit and Bride say Come' in Jezus-Eik
Wednesdayg 29 October
Meeting of Archivists of Durch-speaking Protestant Churches / Organizations in Haarlem (NL)
Saturday 1 November
Evadoc has a stand at the Evangelische Familiedag in Sint-Niklaas.
Saturday 8 November
Workshop for the Anglican churches in Belgium at KADOC
Tuesday 11 November
Evadoc has a stand at the Convention of the A.E.P.E.B.
Evadoc has a stand at the VVP Convention